2022 Best Bathroom Remodeling Tips For Seniors
Once relegated to an obscure and un-talked about part of the home, the bathroom has in recent times become a very important and spoken part of a home. Many people spend considerable amount of money to remodel and upgrade their bathroom(s), not just for aesthetics and convenience, but to add value to their homes.
Related Topics (Sponsored Ads):
However, when it comes to seniors, remodeling of a bathroom has different dynamics and priorities. Of course, seniors want nice looking and comfortable bathrooms like anyone else, but there are other more important concerns. The major concern and issue is that a bathroom remodeling should assist in making it possible for the senior(s) to what's called "age in place". This is the growing trend where seniors want to continue living in their home and not reside in some sort of retirement or care facility. Having a bathroom that is truly senior friendly – providing the safety and convenience features needed to stay independent – should be the focus of a bathroom remodeling in a senior's home.
Therefore, the overall priority in a bathroom remodel is to provide features that provide for the safety, usability and comfort of the senior resident. This focus also has to consider the future and assume the senior will start having more physical and self-care challenges as time goes on. It is important to note that if the home in question is multi-level, then it is crucial that there be a bottom floor usable bathroom. If there isn't, then the first priority should be a bathroom addition on the bottom floor. Listed below are the best bathroom remodeling tips for a senior's home in 2022.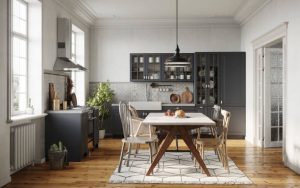 One of the single biggest dangers seniors face is that of falling down. And one of the most common places this can happen is in the bathroom, especially when bathing or showering. A bathroom remodel should seriously consider replacing the traditional tub with a walk-in tub or low-lip shower. Although expensive, a walk-in tub is great in terms of safety and usability. With the addition of hand grips and a non-slip floor, a walk-in tub all but eliminates the risk of a slip and fall.
If a walk-in tub is not an option, then shower stalls that have a very low lip can be installed. This makes it possible to get in and out of it even when using a walker or in a wheelchair. By again adding hand grips, a non-slip floor plus a hand-held shower head spray – the risk of a slip and fall are greatly reduced. Also, it is possible to use special shower stall chairs, so the senior can sit while showering.
A standard toilet can often be too low in height for a senior with physical challenges to use safely and comfortably. Toilets can come with permanent or removable height extenders to solve this problem. The installation of hand rails on either side of the toilet will ensure the safe usability of the toilet even for a senior with challenges. Such railings also come in a fold up and down design, so they won't be there all the time. Also, when designing the remodeled bathroom, it is important to make sure the toilet is very accessible – meaning no tight places. The toilet should be fully usable by someone with a walker or in a wheelchair.
The bathroom sink should be designed and installed in such a way that it can be safely and properly used by a person with a walker and if possible in a wheelchair. This means the sink should not be too far away from the edge of the vanity. Proper height of the sink and its controls is also important. The controls should be very easy to manipulate and be clearly marked regarding hot and cold. The sink should be designed to eliminate splashing as much as possible.
Some part of the vanity, particularly by the mirror, should have space for a wheelchair or walker to fit under. The storage space and shelves should not be too high or too low. It is also important that the vanity and sink area have plenty of bright lighting.
Proper and plenty of lighting not only makes the bathroom more pleasant, but provides extra safety. Some or all of the lighting fixtures should be on walls and accessible, rather than on the ceiling. A smart feature is to install sensor controlled lights, that automatically go on and off when the bathroom is entered and exited. Another good feature is to make the lighting adjustable in brilliance.
– Making the bathroom door extra wide and the entry way completely flat
– Provide good ventilation via an easily accessible window or exhaust fan
– In colder climates, a safe and efficient heater
– Have the walls and floor be in bright and cheerful colors and designs
– Consider installing an emergency call button in the bathroom
Related Topics (Sponsored Ads):