5 Best Private Jet Packages in Pennsylvania
If you need to move within or out of Pennsylvania, you can consider renting a private jet. Pennsylvania's capital city, Harrisburg, has 13 airports within a 50-mile radius. So if you want to savor its iconic landmarks and cultural events, you can opt into one of the best private jet packages in Pennsylvania for a tailored, ideal trip.
Related Topics (Sponsored Ads):
Choosing the best private jet packages in Pennsylvania depends on your preferred comfort level, total passengers, and the amount of luggage. It also depends on the minimum required runway.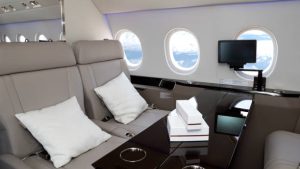 The Cost of Renting a Private Jet
Costs depend on which aircraft you choose, the distance you need to travel, and how long you need to stay at your destination. It is cheaper in some instances to fly private or semi-private than flying economy. In addition, you avoid the long queues, waiting time and crowded lines.
Highlights of the Best Private Jet Packages in Pennsylvania
Paramount Business Jets
Paramount Business Jets offers luxurious private charter flight services to and fro Harrisburg, Pennsylvania. With access to 15,000 certified private jet airports, the company is ideal for your specific trip needs.
Paramount Business Jets offer for hire light, midsize and large jets. Its light jets includes Beechjet 400 A, Citation II, and Learjet 35A. You can also get their midsize jets which include Learjet 60, Hawker 800XP, and Gulfstream G150. If you need large jets, you can go for Gulfstream IV-SP, Legacy 00, and Challenger 604.
The costs depend on which aircraft you choose. The rates of light private Jets per flying hour ranges between $2,200 to $3,500. Midsize range between $3,200 to $6,000. Large jets costs between $5,600 to $11,000. A VIP Airline goes at $16,000 – $23,000 whereas helicopters goes between $1,700 and $2,500 per hour.
Airshare Charter Services
Airshare provides aircraft management and fractional share, embark jet card, and charter services through their diverse fleet of aircraft. Their charter flight pricing includes crew, fuel, onboard amenities, and taxes.
Airshare charter flights are available for business travelers, leisure travelers, medical and Corporate shuttles for employee groups. The flight amenities include WIFI, snacks and beverage, an enclosed lavatory, and more.
You can also get empty legs subject to availability at the time of booking. You are provided with a diverse fleet of aircraft for charter:
King Air goes for $2-4K/hour, HondaJet; Phenom 100 costs $3-5k/hour, Citation Cj4, Phenom 300 $4-5k/hour, Citation XLS $5-6k/hour, Challenger 300, Legacy 500 $6-8k/hour, Falcon 2000, Falcon 900, G-IV at $7-10k/hour and Gulfstream G-550, Global 5000, Falcon 7X goes for $10-12k/hour.
Pittsburgh Jet Center
If you are looking into getting full ownership of aircraft or a single charter flight, Pittsburgh Jet Center provides guidance based on their experience. Through its commitment to high safety standards and excellent customer experience, Pittsburgh Jet Center is among the best aircraft services companies in the United States.
Its services include jet charter services, aircraft management, and aircraft sales. Pittsburgh Jet has access to more than 5,000 airports in Canada and U.S., and their aircraft is ready to fly within two hours of getting a request. In addition, you get such services as catering, lodging, ground transportation, and inflight entertainment.
Pittsburgh Jet provides the following Jet fleet on charter: 2007 Cessna Citation CJ3, 2010 Cessna Citation CJ3, 2006 Cessna Citation XLS, and more. Pittsburgh Jet Center also guides the purchase, management, and sale of aircraft.
GrandView Aviation
With luxurious aircraft and dedicated pilots, GrandView Aviation is ideal for both leisure and business travel. Their primary fleet plane is the Embraer Phenom 300, which is fast, efficient, and has the full features you need in a private jet.
The Phenom 300 has a 2000-mi range, 500+ mph top speeds, 7-8 seats plus luggage, satellite phone, and complimentary high-speed WIFI. As a passenger, you get free snacks and alcohol. In addition, you get personalized service and can make special requests and fly on-demand.
GrandView Aviation has demonstrated a track record of safety and earned ARGUS Platinum and Wyvern Wingman certifications. With consistency in luxury and safety, GrandView Aviation has acquired a 10-year accident-free and incident-free award.
Monarch Air Group
Monarch Air Group charters on-demand private flights all over the world. With access to over 6000 aircraft, Monarch Air Group guarantees luxury, flexibility, efficiency, and privacy.
You get access to amenities such as WIFI, videoconferencing, and satellite phones. In addition, you can enjoy massage chairs, digital entertainment systems, catering services, and much more.
The best private jet packages in Pennsylvania consider the length of trip, type of aircraft, landing fees, and market factors in determining their pricing.
The costs of private jets vary depending on whether it is an on-demand charter, private jet cards, fractional ownership, or outright ownership. On-demand charter involves booking a private jet for a specific trip at a one-off price.
Related Topics (Sponsored Ads):