Best 2022 Smart Home Features For Seniors
Soon after the deluge of smart phones in society, came smart devices. These devices are not only the familiar computer and electronic items, but even "old school" things like appliances, lights, locks and vacuum cleaners. Homes that utilize these smart devices became known as "smart homes".
Related Topics (Sponsored Ads):
While one may think that smart devices and homes are only in the realm of younger people, this is not true. Just like seniors have widely adopted regular smart phone use, they are gravitating to these smart devices as well. This is because a smart home provides many features and benefits that are of particular benefit to seniors. Some of these benefits include:
– Increased safety and security
– Higher comfort and convenience
– Reduced expenses
– Provides peace of mind to family members
In addition to the above benefits, perhaps one of the most important one for many seniors is independence. Different studies and polls have indicated that over 75% of seniors want to "age in place" – meaning they want to stay in their own home and not live in a special senior facility. A smart home and its smart devices can help a senior, even if they live alone, to continue living independently in their own home – with safety and security. Below are listed the best smart home devices and features for seniors in 2022.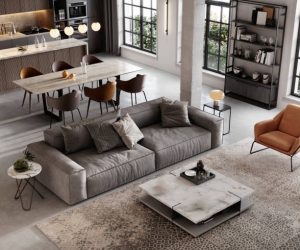 These smart devices are like the brain of a smart home. These little guys sit conveniently on a shelf or other furniture and allow the resident to give instructions to the various smart devices in their home – and by using their voice. Also, these devices will also talk to you. While a smart home system can also be controlled through a smart phone app, a hub is a big advantage for many seniors – especially those with problems handling and seeing a smart phone. Users with impaired mobility, dexterity or vision can control their heating, lighting or other smart home devices while they're in bed or relaxing on the sofa without needing to get up and even in the dark. A properly set-up hub will control and interact with all the smart devices in the home, such as the following ones.
This device provides a large measure of security and convenience for seniors. These are doorbells that contain a video camera, microphone and speaker. The resident can see and speak with the person at the door without having to go to the door. This is because the smart doorbell is hooked up to a computer or smartphone, from which you can see who is at the door and to speak with them if you wish. This device can all but eliminate the possibility of a "push in" home robbery and a huge convenience for those who are sickly or infirm.
These are electronic front door locks, which even come in dead bolt versions. Like the smart doorbell, this device is electronically hooked up to your hub or smartphone. It allows you to lock and unlock your front door remotely and be able to get in or out of your home without a key. Some of them even have a warning device if you leave the front door unlocked.
This type of thermostat is controlled via a hub or smart phone. The resident can simply even speak to the homes hub to turn on, off or adjust the thermostat. This makes it infinitely easier for a senior to set their home's temperature. This in turn usually adds up to a cost savings, as it reduces unneeded heating or air conditioning usage. A nice plus is that you can also control the thermostat while away from your home.
Smart Robot Vacuum Cleaner
Doing a good vacuum cleaning job in the home can be arduous for most people, and maybe impossible for many seniors. These little disc like machines can vacuum your own home, and even go under your furniture and beds without having to move anything. Many of these devices can be integrated into a smart home system – so you can control this robot from your hub or smart phone. Some of these devices can also wash your kitchen floor. In addition to convenience, these devices can greatly reduce the expense of housecleaning services.
Special light fixtures and lamps can be integrated into a smart home system, so they can be turned on or off by simple voice commands. This provides tremendous extra security and safety for seniors, as they can simply ask for the lights to come on with a simple voice command without having to get up in the dark. The smart lights can also be programmed to go on and off at set times or even remotely while away from home.
Smart Interior Video Cameras
These cameras can allow the resident or their family members to visually check what's going on in a room in the home. This is especially helpful for family members or helpers to watch over seniors with health or physical problems. Of course, they also can be controlled and accessed remotely via a smartphone or computer.
Related Topics (Sponsored Ads):