If you are in the market to buy a car, you are likely considering financing the purchase. Because cars are very expensive, most people do take out some sort of loan to help pay for the car. These types of car loans are used to help people buy both new and used vehicles.
Related Topics (Sponsored Ads):
In addition to the price of the car, there are three main factors that will determine what kind of monthly payment a car loan will require: the amount of any down payment, the number of payments (usually monthly) the loan allows, and the interest rate being charged. The greater the down payment, the lower the interest and the longer the number of payments – the lower will be your payments, and vice-versa.
A key to getting the best deal on car financing is your credit score. The higher your credit score, the lower will be your interest. Also, a strong credit score will enable you to get a larger loan (which could mean a very low or zero down payment) and give you a larger choice of lenders to choose from. It is very advisable to shop for and pre-qualify for a car loan before you physically go shopping for a car. Then, you can compare the terms of your pre-qualified loan with any financing the dealer may offer you – which will allow you to choose the best deal. Below are listed several of the best sources of car loans, including both new and used cars plus weak to strong credit.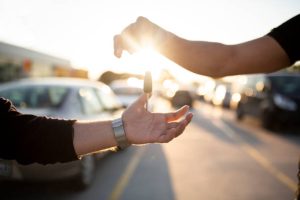 This online lending portal specializes in auto loan refinancing. If you have an existing car loan with payments that are too high for you, AUTOPAY can help you replace that loan with another one (refinance) with lower payments. They do this by finding a replacement loan with lower interest and / or lengthening the number of payments. They claim they can help with this even if you have poor credit.
This very large, national bank has been rated as the best traditional bank lending source for auto loans. They offer several auto loan options, including new, used, refinance, and lease buyout. For borrowers with strong credit, interest rates start as under 2.5%, with repayment terms of 12 – 75 months. Existing customers of the bank can get even lower interest rates. BofA has a no-fee online application, that it claims can give you a decision within 60 seconds.
If you have only fair credit and will consider buying a used car, then Carvana could be the place for you. They are actually an online used car dealership and make it possible for you to select a vehicle, secure financing for the purchase, and have the vehicle delivered to you without having to leave your house. There is no minimum credit score requirement, but you need an income of at least $4,000 annually and have no active bankruptcies.
Chase is another strong, nationwide bank that has been highly rated and specializes in used car loans. They offer zero down payment loans to those with strong credit, have financing terms up to 84 months, and will finance high-priced luxury cars – but also can make a loan for as little as $4,000. Financing a car with Chase Auto requires you to choose a dealer in the Chase dealer network.
Consumers Credit Union (CCU)
Credit unions are known for offering some of the best deals on loans, including for cars. However, membership is required. CCU is very easy to join – you become a member by paying a one-time five dollar membership fee and there are no location or employer restrictions. Interest is as low as 2.24%, with terms up to 84 months. They offer new, used, and refinance auto loans.
This is the online auto financing division of SunTrust Bank. Their loan process is done completely online. They offer loans on new and used cars, refinancing, lease buyouts, luxury cars, and classic cars. Their interest rate ranges from 2.49% to 10.99%, with terms up to 84 months. LightStream has been rated as having some of the best customer service. They prefer to work with borrowers with very good to excellent credit.
This is an online auto finance portal that can help secure auto loans even for those with poor credit. They have an online application which is supposed to be easy to complete and after you submit it, they will "match" you with up to four lenders. These lenders can fund your loan in as little as 24 hours. myAutoloan helps to secure new, used, and refinance loans.
PenFed offers some of the lowest interest rates on auto loans. Membership is required, but many people will qualify. Borrowers that use the credit union's car buying service, can get interest rates starting as low as 0.99% for a new car and 1.99% for a used vehicle. They offer new, used, and refinance loans.
Related Topics (Sponsored Ads):