Best Online Cell Phone Stores For Seniors
Not too long ago, many seniors stayed away from cell phones as they found them confusing and frustrating. Things have changed, with over 90% of seniors in the country that now own and use a cell phone. Plus, a large majority of these are smart phones. Thus, there are many seniors who are looking for replacement or upgraded phones.
Related Topics (Sponsored Ads):
As with so many other things, seniors often turn to online shopping for getting that new phone. There are many hundreds of online stores that sell cell phones online, from large to small. However, to be able to receive the purchased phone ready to use, it needs to be connected to a cell phone service provider. Therefore, it is best for most seniors to choose and purchase their new phone from a service provider's online store. A large selection of phones is still available this way, plus you will have the customer service of the provider's company available.
From the large variety of phones available from these online stores, only some are best for seniors. These phones are the ones that are most senior friendly and have features such as: big buttons or icons, bright screens, loud and adjustable speakers, hearing aid compatibility, and an easy-to-grip design. And of course, the phones should be of good performance quality, reliable and durable. Following are listed the best online cell phone stores for seniors.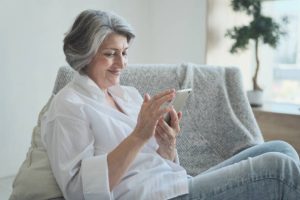 This communications giant is one of the largest cell phone companies in the country with over 150 million customers. They offer many discount plans for seniors and also free shipping.
Featured senior friendly phone: Kyocera DuraXE Epic. This flip phone is extremely durable and is excellent for older adults with unsteady hands or health conditions that make them more prone to falls and accidents. It won't be damaged by dust, extreme temperatures or weather, being dropped (within reason), or being submerged in water for a short time. Plus it features an SOS button, very clear and loud speakers, hearing aid compatibility, and larger font sizes. Online price : $270
This company is famous for saving consumers money. They have many budget friendly service plans and even offer senior discounts.
Featured senior friendly phone: Link II Flip Phone. This phone is the lowest price senior friendly phone available at a cost of only $59. This is a basic cell phone and not for those who want to surf the net or use other computer type functions. But it does have all these features: large keys, simple to use, texting ability and even a simple camera. It even has the ability to hook up to a larger external display screen for easier reading.
This company specializes in catering to seniors, both for their service and their phones. They also utilize the very large and strong Verizon network to provide cell phone service.
Featured senior friendly phone: Jitterbug Smart3. This smart phone keeps it simple, featuring a basic list-style menu, large touchscreen, and long battery life. You'll be able to find what you need with just a few taps. Plus, it offers all of the features you look for in a smartphone, like GPS navigation, video chatting, a built-in camera, and mobile apps. A special feature is that it comes with built-in medical alert capabilities. It has a list price of $150, but many discount options are available.
This company offers seniors many different discounts and has prepaid plans that require no contract obligation. Plus they offer a money back guarantee on their phones.
Featured senior friendly phone: Samsung Galaxy Z Flip 3 5G. For seniors who want the latest technology and features, this phone is for them. It is a combination of a flip phone and traditional smart phone. This advanced smart phone actually folds shut like a traditional flip phone, so you can easily throw it in a pocket or purse without damaging the touchscreen, and it makes it easier to grip. Plus it provides an easy to read vivid screen and water-resistant functions. This phone lists at $1,100, but there are discounts available plus low payment financing.
This is another cell phone company that specializes in serving seniors. They have service plans starting at only $10 per month and 24/7 emergency service starting at only $20 per month. Plus they require no contract and offer a 30 day money back guarantee.
Featured senior friendly phone: Snapfon ez4G. Providing three big benefits – simplicity, usability and affordability. While it has only basic cell phone capabilities (not really for surfing the web), it does have these very helpful features: emergency button with 120dB siren, hearing aid-compatible, powerful speaker, raised tactile buttons, built-in LED flashlight, plus medical alert capabilities. All this for the affordable price of $80.
This large and famous cell phone company offers three different seniors discount plans. In addition, they have been rated with providing excellent customer service.
Featured senior friendly phone: Galaxy A12. The main super feature of this phone is its battery life – 34 hours of talk time, or 16 days of standby time when you're not actively using your phone. This reduces the chances of being caught with a dead battery. It also has fast battery charging capabilities. Plus it offers a large and clear display screen and an advanced camera. You can buy this phone for $180 or for small monthly payments of only $7.50 – and if you take a contract with T-Mobile you may be able to get this phone for free.
Related Topics (Sponsored Ads):