Best Online Shoe Stores For Women Over 50
It's well known and undeniable that a lot of women have a passionate love for many things, especially shoes. Many men may not understand it, but it's true- When it comes to shoes, it can never be too many. And this love for shoes persists into the senior years.
Related Topics (Sponsored Ads):
By their 50's and beyond, however, many women can no longer wear all those super wild, uncomfortable and potentially dangerous shoes that they used to in their younger adult years. Their balance and strength of leg and knee may not be as good as it once was, or they have certain health conditions, such as edema, diabetes or arthritis that make high heels and typical sized shoes a no go. Whatever the reason, many mature women need to make smarter and better choices for their feet, such as sticking to smaller and thicker heels, sneakers, a wider shoe, semi or full orthopedic, etc.
But, understandably, they don't want to part with those pretty and stylish trends. What's more frustrating, physical shoe stores don't always have what they need, or they can't always get to them. But the great news is, there are a plethora of online shoe stores which offer a vast selection of suitable yet beautiful shoes of all types and price ranges. So go ahead and grab that virtual shopping cart, it's time to go on an online shoe shopping spree.
Listed below are some of the best online shoe stores that offer suitable shoes for mature and wiser women.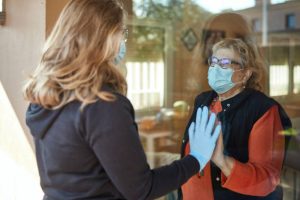 Let's face it, no matter what your personal opinion of it may be, Amazon never fails to make it to any best online shopping list. This is because they often beat a lot of the competition when it comes to variety, affordable prices and excellent return/exchange policies. On top of that, Amazon carries lots of items and products that other online stores don't, has a super cool option to try things on before you buy called "Prime Wardrobe" (On select items only),
and offers some great sales and discounts as well. Additionally, you can read customer reviews under each product to help you make the best choice.
Top Rated Shoe: Lucky Brand Women's Basel Ankle Bootie
Amazon's Price: $77.50
If you're looking for super comfortable, highly varied and top quality orthopedic shoes in particular, then Happy Feet Store is the number 1 place to go. They offer free and easy returns, free shipping and 100% accurate price guarantee. The customer ratings and reviews are easy to find below each product.
Healthy Feet also offers other fantastic specialty shoes in oodles of colors and sizes made for those who need therapeutic shoes or have certain health conditions, such as diabetes, arthritis, edema, wide feet, foot bunions and others. As an added bonus, Healthy Feet carries all shoe types, so you can have happy feet without giving up those pretty fashion trends.
Top Rated Shoe: Propet Stability Fly – Women's Athletic Shoe
Healthy Feet's Price: $99.95
Do you have trouble finding shoes because your feet are slightly different sizes? Then Zappos is your go to. They've got half sizes and wide shoes for those difficult and picky feet. Zappos also boasts an impressive 365-day return and exchange policy, interest-free payments, fast delivery, a great user-friendly website with prominent customer reviews, attractive prices and a wide variety of shoe types.
If you need more convincing, Zappos shoes are also shown in very large, clear pictures, and offer additional images of every angle. This cool feature makes it seem as if you're at a physical store.
Top rated shoe: SOREL-Cameron Wedge Sandal
Zappo's Price: $129.95
If you're looking for relatively low prices on trusted name brands and lots of opportunities to save more, Famous Footwear is one of the best online discount shoe stores out there, and has an impressive range of sales. Their site has a sale tab and consistently runs various promotions. For example, it often runs end-of-season sales during which you can get shoes, sandals or boots for as much as 50% off. Famous Footwear also has a rewards program that earns you points for each dollar you spend, which can then be redeemed later. When you sign up for the rewards program, you also get exclusive offers and free shipping on any orders you make online.
Plus, if you want to exchange or return items, you get 60-days (or 90 if you're a member),and you can ship back via any courier of your choosing. This means the return fee may vary, but still totally worth it.
Top Rated Shoe: PUMA- Women's Sportie Viola Sandal
Famous Footwear's Price: $35.00
As far as variety and attractively low prices go, the only online store that could compete with LightinTheBox is Amazon.
LightinTheBox has got it all- An easy to use site, reliable and quick delivery, decent return and exchange policies, many great sales and discounts, and great customer satisfaction overall. Another reason why women love LightinTheBox is that they carry up to size 43 for women's shoes, which is hard to find elsewhere.
Top Rated Shoe: Women's Fantasy Shoes – Braided Sandals, Chunky Heel, Square Toe
LightinTheBox's Price: $21.00
Don't let societal beliefs or your age dictate what you can and cannot wear. You really can stay hip, yet also be kinder to your feet and legs.
When it comes to shoes or anything else you wear, it's quite common to purchase things on an online store that you thought you'd like and would be a good fit, but turned out to be a flop when you receive it. It happens to us all. Therefore, it's crucial that you first check the return and exchange policies thoroughly before you make your purchase.
Related Topics (Sponsored Ads):