Best Online Stores To Buy Luxury Bags For Women Over 50
If you're like many women out there, you probably have an entire collection of bags. Big bags, small bags, bright and colorful bags, dark and professional bags, bags with zippers or pockets or buttons, and all in one. But mature women often crave a luxury designer bag to look classy.
Related Topics (Sponsored Ads):
But the primary problem with higher end, luxury designer bags for the larger majority of senior women, is that they generally cost an absolute fortune. They're considered very pricey even for those who are living comfortably or with a decent retirement fund. This is why, after staring at that Gucci or Ralph Lauren bag with sparkly eyes for a good ten minutes or so, many will reluctantly have to put it back with a sigh. Have you been thinking lately- there must be a way and place where I can get that gorgeous luxury bag on a significant discount or on payments so it doesn't break my bank.
Well, great news! There are a number of online stores that specialize in luxury bags and offer all kinds of deals and discounts. Better yet, thanks to careful and reliable inspections, buying online guarantees that you'll get a genuine designer bag, not a fake, lookalike knock-off. It's time to get online and search for that super fashionable, designer luxury bag that you've always wanted.
Listed below are some of the best online stores that sell luxury bags for mature and classy women.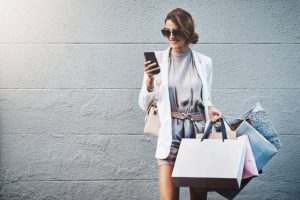 Every avid luxury handbag buyer knows that Saks Fifth Avenue is a fabulous place to get a full-priced designer bag, but the retailer's designer sale is where the real treasure is at. A few times a year, Saks' dazzles both younger and senior women with attractive discounts on many luxury designer bags, such as Jacquemus, Valentino, Coach and many more.
Saks Fifth Avenue also offers super flash sales of up to 75% off for their online store only, 10% discount on your next purchase upon creating a membership account, giftcards, smartphone app, interest-free payments, free shipping with no required minimum purchase, free yet conditional returns within 30 days from the day of purchase.
Popular Designer Bag: Coach – Field Signature Jacquard Tote
Saks Fifth Avenue's Price: $350.00
Anyone who's anyone knows and can't get enough of Nordstrom. Nordstrom Rack has become a top hit amongst the senior club over the years, and is the discounted version of this iconic online and in-store shopping destination. Not only do they offer a top notch selection of pieces at up to 70 percent off, but they also carry a stunning array of designer bags from brands like Moschino, Valentino, Alexander McQueen and more.
The Nordstrom Rack online store offers flash sale events, good shipping and return policies, a convenient app for your smartphone, exclusive offers upon signing up for membership, an irresistible clearance section, interest- free payments, free shipping on orders of $89.00 or higher with AfterPay, and club points/rewards.
Popular Designer Bag: Moschino – Quilted Leather Crossbody Bag
Nordstrom Rack's Price: $410.00
Italist may not be as well known as other online luxury handbag stores, but there are senior women who can afford to splurge who feel that it should rise up the popularity charts. Italist works directly with legit retailers to provide you with genuine designer items that are all discounted up to 40 percent off. Even better, their online site guarantees that you'll get your items in four days or less. That means that your Valentino bag will get to you before you have time to second-guess your decision to splurge on it.
Italist also offers special savings for subscribers, cool contests to win gift cards, 24/7 online customer support, free shipping, 100% certification of all their designer items, checked twice by both parties, and a smartphone app.
Popular Designer Bag: Valentino Garavani – Small Double Handle Bag One Stud
Italist's Price: $2014.70
Do you love Coach bags? Are you looking to save a ton of money? Well then, you're in luck! From big bags to little tote bags, you're bound to find that beautiful designer bag that you've been looking for at the Coach outlet. They also carry designer bags from other name brands.
Here's why you should check out the Coach Outlet: Good sales throughout the year, a worthwhile clearance section, reliable shipping and return policies, interest- free payments with klarna, online customer support, various deals and discounts that will have you speeding to the checkout, gift cards and more.
Popular Designer Bag: Coach – Zip Top Tote In Signature Canvas
Coach Outlet's Price: $109.00
Bloomingdale's, also known as Bloomies by its many devotees, is a true iconic favorite amongst the senior crowd for so many reasons. It's so big and successful, that the name by itself evokes a sense of super quality and customer satisfaction. Got your heart set on a satchel, tote or handbag? Or perhaps a super chic clutch? Bloomies' is sure to have exactly what you desire.
This is what you'll get if you choose Bloomies's online store: "Loyalists" members get free shipping and a $50.00 reward for every $200.00 you spend on select items, you can choose between same- day delivery, curb-side and at-store pick up options, interest- free payments with Klarna, 15% discount for email subscribers, professional guidance from a stylist, trustworthy shipping and return policies and more.
Popular Designer Bag: Versace – La Medusa Hobo Bag
Bloomie's Price: $855.00
Related Topics (Sponsored Ads):