Best Value Refrigerators For Seniors in 2022
One of the most important appliances in a home is the refrigerator-freezer unit. While there are many different kinds of appliances to heat and cook food, only the refrigerator can safely store our food until we are ready to eat it. However, there are different kinds of refrigerators available.
Related Topics (Sponsored Ads):
The long standing traditional refrigerator has a freezer compartment on the top with its own door and a separate larger refrigerator compartment below with its own door. In more recent times, other styles and configurations of refrigerators have become available. For seniors, it is the side-by-side type of refrigerator that has proven to be the most beneficial. A side-by-side has a refrigerator compartment on one whole side of the unit with its own door, and the freezer compartment on the other side of the unit with its own door. This kind of refrigerator is senior friendly because much of both the fresh and frozen food can be kept at about eye level. This greatly reduces the need to bend or strain to load or unload food items, which is very helpful or even crucial for many seniors.
Although "French-door" refrigerators have become the most popular style recently, the side-by-side has advantages in addition to it being senior friendly – including:
• Side-by-side refrigerators are typically less expensive than French-door models.
• More and more side-by-sides have many of the premium features typically found in French-door refrigerators, such as door-in-door designs.
• The narrow doors of side-by-sides are easier to open in small kitchens.
• They usually cost less to repair.
The following are the best value side-by-side refrigerators for seniors in 2022.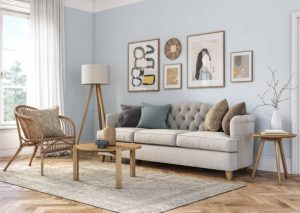 Average Price: $1,300
Dimensions (DxWxH): 34.6 x 35.8 x 69.6 inches
Refrigerator Capacity: 15.4 cubic feet | Freezer Capacity: 9.1 cubic feet
This model is put into the "budget" category, but it is in no means "cheap". The famous Amana quality is present in this refrigerator, which provides a simple, no frills model with enough capacity to serve most seniors. Even though it is no-frills, it still has an external in the door ice and water dispenser. Other features include three adjustable door bins for any big food items like milk and soda and there is a built-in freshness control to keep produce in its best condition.
Average Price: $1,300
Dimensions (DxWxH): 31.6 x 35.8 x 68.6 inches
Total Capacity: 24.9 cubic feet
This budget model from Maytag also lives up to its brand's famous quality in should be of interest to those who don't need or want an ice and water dispenser. This is especially beneficial if you want more usable space in the freezer compartment. Features include nice stainless steel handles, bright LED lighting and a very generous seven separate bins in the freezer compartment.
Average Price: $1,750
Dimensions (DxWxH): 29.75 x 36 x 68.8 inches
Refrigerator Capacity: 13.6 cubic feet | Freezer Capacity: 6.9 cubic feet
For seniors with smaller kitchens, this model from Whirlpool is ideal because its depth is the standard depth of kitchen counter tops, so the refrigerator won't stick out into the kitchen floor. Plus, it comes in white, black, stainless steel, and black stainless steel exteriors. Another nice feature is its frameless glass shelves that are stronger and more versatile than standard shelves. Other features include a built-in ice dispenser and a built-in air filtration system to reduce odors.
Average Price: $1,900
Dimensions (DxWxH): 34.9 x 36 x 68.9 inches
Refrigerator Capacity: 17.6 cubic feet | Freezer Capacity: 10.9 cubic feet
For seniors with family members or who visit often, this larger capacity model from Whirlpool should fit the bill. It is very utilitarian, with all the shelves and bins in both the refrigerator and freezer compartment being fully adjustable. Advanced cooling technology helps maintain constant proper temperatures and reduces odors. A nice design plus is that the ice machine for the built-in dispenser is inside the door, providing extra freezer storage space, plus the water dispenser even has a handy night light.
Average Price: $2,000
Dimensions (DxWxH): 33.5 x 35.8 x 70 inches
Refrigerator Capacity: 17.2 cubic feet | Freezer Capacity: 9.5 cubic feet
For seniors who are into high-tech, then this model from Samsung will be sure to please. It is a "smart" home appliance and can be interfaced with the internet. Samsung calls this their Family Hub feature, which keep track of your routines, tasks, and even meals. It can even tell you when to eat certain foods before they spoil. Then there's the ability to play music from Spotify. (How about that – a musical refrigerator). Of course, it also has very useful normal refrigerator features as well, including an in-door ice maker and dispenser, modern and efficient cooling controls and technology and finger print resistant exteriors.
Related Topics (Sponsored Ads):