Electric Cars Best for Seniors
For many seniors, they may remember that the last big changes in cars were seat belts, air conditioning and stereo sound systems. Now the real big change is a whole new type of engine – electric instead of gasoline powered. With concern over ever rising gas prices and air pollution, seniors like others are looking to buy and drive electric cars.
Related Topics (Sponsored Ads):
Not all "electric" cars are the same. There are two main categories of electric vehicles (EV), hybrid plug-ins and fully electric cars. The hybrid kind use both gasoline and electricity, while the full EV runs on electricity only, they use no gas nor do they have a regular gas engine. The advantage of the hybrid is that if your battery gets too low, it will automatically switch over to gasoline mode – meaning you won't get stuck if you can't recharge your battery. The disadvantage is that they can typically only operate for about 25 miles on electric only. With fully EVs, you can usually travel for about 250 miles on a fully charged battery. The trouble is that recharging them can take many hours.
Therefore, the best type of electric car for you mostly depends on your driving needs and habits. If you usually only use your car for local errands and trips, a fully EV may be great for you as you won't have to recharge it so often. But if you do a lot of long distance driving, you might be better off with a hybrid to prevent you from running out of power and being stuck somewhere. In either case, using an electric car will cut your gas bill and the air pollution associated with regular cars. Plus, there are many government tax incentive programs that make buying an electric car an even more beneficial decision. The following models are some of the best electric cars available.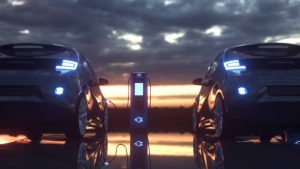 This was one of the first true electric cars available for sale to the public, introduced about ten years ago. The Leaf is still going strong, offering good features at a value price. It is the lowest price full EV car on the market. This car offers more than enough distance range for local driving and it is also quick to accelerate and handles well.
Price: starting at $28,000
Driving range: 149 miles
While the Bolt may not be the lowest price EV, in terms of driving range for the money, no mainstream electric car offers you more. This model has been redesigned and now is more stylish, provides comfortable front seats and it has a new infotainment system featuring wireless Android Auto and Apple CarPlay. However, its main strength is the very impressive range for a good price, making the Bolt an appropriate choice even for longer distance drivers.
Price: starting at $32,000
Driving range: 259 miles
This model from Volkswagen was designed to be a true EV from the start, it is not a repurposed prior model. It is often marketed as a SUV, but the ID.4 looks and performs more like a hatchback. This EV car has a good amount of passenger space, is very comfortable to drive every day and provides reliable performance.
Price: starting at $41,000
Driving range: 260 miles
The Tesla auto company probably is the single biggest factor in starting the full EV car revolution. This company has made EVs their full and dedicated business. Their Model 3 is one of the best midsize sedans, electric or otherwise, available today. Plus, it has been rated as the very best EV multiple times. Impressive performance, amenities and great cargo space have contributed to this.
Price: starting at $46,000
Driving range: 272 miles
This company is fairly new to the EV marketplace, but it is part of the same corporate group that produces a famous and popular line of cars – Volvo. As such, the Polestar 2 has similar design and high quality features of Volvo models. It also provides quick acceleration, a pleasant ride, and a useful and practical rear hatch.
Price: starting at $47,000
Driving range: 265 miles
The Prius was the first large scale and successfully launched hybrid car models. Toyota has also made the Prius available as a hybrid plug in model, the Prius Prime. This model offers the quality and reliability that has made Toyota famous. It provides an electric motor range good for a full day's local driving and its battery can be recharged in a couple of hours.
Price: starting at $29,000
Electric motor driving range: 25 miles
The Niro is a very versatile and practical vehicle. Styled like a small SUV, it provides true hatchback features of extra passenger space or extra cargo space. It comes with a nice array of amenities and features. This model can be a good choice for seniors who often drive their grandchildren around, whether locally or on a road trip.
Price: starting at $31,000
Electric motor driving range: 26 miles
Related Topics (Sponsored Ads):