Free Web Design Classes Best For Seniors
The internet has literally millions of web sites on it. All of these web sites are comprised of multiple elements, including the words, graphics, links, audio and other components. Just like print media such as magazines and newspapers had to have a lay-out design, so do web pages. That is where web designers come into the picture.
Related Topics (Sponsored Ads):
Because the web is ever changing and growing, the need for skilled web designers is high. Seniors who are looking for a second career or an interesting way to earn an income can take advantage of this situation. First off, this type of work is very often a remote (work from home) type of position – which is advantageous for most seniors who are not interested in a daily commute or being confined to an office building. Second, this kind of work offers the option to be a free lancer – where you work for yourself, which provides maximum flexibility in work schedule and earnings ability. Last, but not least, you can learn the skills you need to be a web designer online – from the comfort and security of your home. Better yet, you can take basic and overview courses in this field online for free to get you started. The best of these kinds of courses are listed below.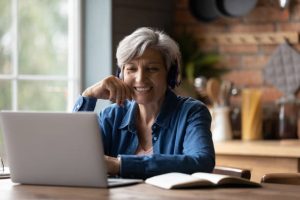 WebFlow University: Ultimate Web Design Course
This online video based course is appropriate for beginners to intermediate level students. It is offered by the online learning platform WebFlow University. The course includes over five hours of video lessons and is a great introduction to all things web design. This course features current cutting edge introduction to web design, easy to follow instructions, and over five hours of video content. Topics covered include: Coding basics, structure, typography, media, styling, layout, and responsive design.
YouTube: Beginner Web Design Using HTML5, CSS3 & Visual Studio Code
Hosted on YouTube, this video course for beginners has been rated as easy to follow and even entertaining. This course is very hands-on, where you will learn how to create three different websites with increasing levels of complexity and difficulty, and then how to make your site responsive. The course consists of four hours of video content, divided into sections for a better overview. Topics covered include: Coding basics, tags, structure, media, styling, responsive design, and testing.
freeCodeCamp: Introduction To Responsive Web Design – HTML & CSS Tutorial
Learning site freeCodeCamp offers this 4-hour introductory course to responsive design on their YouTube channel. During this course you will learn how to create a single, 3-page responsive website, as well as the basics of responsive design, CSS, and HTML5. Features of this course include over four hours of neatly-divided video available for free with no signup required, learning important CSS units and advanced HTML tags, and develop an understanding of how to create a proper responsive design with HTML and CSS.
OpenClassrooms Course: Build Your First Web Pages With HTML and CSS
This video oriented course is offered by the large online learning platform OpenClassrooms. It is geared to absolute beginners and covers many different topics. It starts from the very beginning and will give you a great fundamental understanding of both HTML5 and CSS3 coding. If you have no experience whatsoever with web development or design, this course is a good place to start. Features of this course include 10 hours of free video learning – including interactive quizzes, collection of Codepen entries to show how different code works in the real world, and an optional course completion certificate available with paid membership.
Coursera: Web Design for Everybody: Basics of Web Development & Coding Specialization
This course is offered by the University of Michigan and hosted on the Coursera online learning platform. There is over 70 hours of learning available, all free if you only audit (no certificate or grade) the course. Features of this course include: complete reviews, experiments, and more to better internalize everything you learn; providing a solid foundation as a web designer, with over 30 hours of learning on HTML, JS, and CSS basics; the ability to interact with a thriving online community of other eager learners; optional official completion certificate available for a fee.
Related Topics (Sponsored Ads):