How Seniors Can Find The Best Doctors In Their Area
Having a good medical doctor is important and very helpful for all types of people, young or old, singles, couples and families. For seniors, who often need ongoing and expert medical care, it is virtually a necessity for them to have a medical doctor that they can count on.
Related Topics (Sponsored Ads):
When seniors find themselves needing a new doctor, it is often a very daunting task to find one that is suitable and desirable. The need for a new doctor may be because they need a new kind of specialist, their current doctor retired or the seniors moved to a new area. While there are usually plenty of doctors available in a given area, finding and choosing the best one is not so easy or apparent.
First of all, the new doctor must be some sort of geriatric physician – meaning they have knowledge and experience in treating older patients. This is not only true for a general practitioner, but also for a specialist. The doctor must accept your medical insurance – not all of them participate with Medicare. The office needs to be physically accessible to you in terms of location and hours. And then the doctor must be someone you can trust and be comfortable with and confident in. Therefore, it will take some research and homework to successfully secure such a good doctor. Below are listed some ideas and resources on how seniors can find the best doctor for them in their area.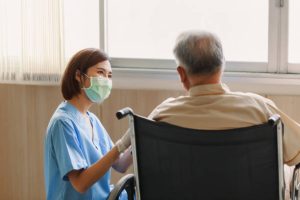 Recommendations and Referrals
Ask seniors in your area for personal recommendations of doctors that they use and are happy with. These are especially useful if you get recommendations from other seniors that have similar medical issues and conditions to you. If you are looking for a new type of specialist, the first place to look is from a referral by your current general practitioner doctor. Sometimes a long term, busy local pharmacist might be an excellent source for a referral.
Places such as houses of worship, community centers, senior centers and the like can be good sources to locate a good doctor. By asking around, you'll often find people are very willing to tell you about local doctors – both good and bad. Then there are often local community "boards" and discussion groups on the internet. If you find some that cater to seniors, ask on these about doctor recommendations.
Medicare.gov's "Physicians Compare" website offers a comprehensive search engine that will find and list Preferred Health Professionals (PHP) in your area. You can search for a PHP by name, a group practice name or a specific medical condition, need or issue. Also, you can call 1-800-MEDICARE and a representative can provide more personal help, as well as send you a printed version of your personalized search results.
American Medical Association's (AMA) DoctorFinder Website
The AMA is the largest association of medical doctors and medical students in the country. Their DoctorFinder web-tool provides information on nearly every licensed physician in the country. Patients can find out about office hours, accepted insurance providers, educational history and other helpful information about all AMA doctors.
U.S. News magazine's website provides plenty of rankings and information about the best health care providers in the country. Plus this site offers patients their own Doctor Finder tool. All you have to do is enter your zip code and the specialty that you're looking for. From there, U.S. News will take you to a list of doctors in your area. You can then further sort and filter the listed doctors by your own personal preferences, such as insurance, hours, etc.
This organization's website provides a Find A Geriatrics Health Professional referral tool. This database only includes professionals who are currently paying members of the American Geriatrics Society (AGS), so it will miss some providers who are board-certified in geriatrics but not currently in the AGS.
This website is maintained by the American Board of Medical Specialties. You can search to find board-certified doctors by specialty (e.g. geriatrics) and location.
Academic Medical Centers and Senior Health Centers
Academic medical centers are clinics that are affiliated with a medical school. Most medical schools have a Division of Geriatrics that often sponsors a geriatrics primary care clinic. They may also sponsor innovative programs in eldercare, such as house calls programs.
Senior Health Centers are local non-academic primary care clinics that are designed to meet the needs of older adults. As the general population grows older, these types of clinics are becoming more common and of a higher quality.
Related Topics (Sponsored Ads):