How To Get A New Mattress With Medicare
Getting a good night's sleep is so important for your health and an improper mattress can make this very difficult. If you have certain medical conditions, such as back problems, then having a proper mattress is even more essential. Buying a new mattress can be quite expensive and many seniors can't afford to pay for one.
Related Topics (Sponsored Ads):
Almost all seniors (65 and over) have Medicare for health insurance. While Medicare is usually associated with paying medical bills for things like hospitals and doctors, Medicare can also sometimes help pay for things that are health or medically related. Such covered items are known as Durable Medical Equipment (DME) and Medicare will pay the major share of the cost of DME's. To be eligible for DME coverage, you must be actively enrolled in Medicare Part B. This requires an application (enrollment is not automatic like Part A) and a monthly premium must be paid.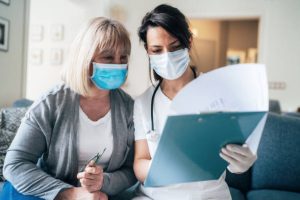 Mattress Considered As DME
There are two major factors considered regarding whether a mattress will be approved as a covered DME by Medicare. First, the patient's condition and situation must qualify – which will be discussed more in the section following. Second, the mattress itself must qualify. The only kind of mattress that qualifies as a DME is a recognized pressure-reducing mattress. It must be so recognized as such by Medicare. These mattresses are designed to alleviate pain caused by medical conditions such as various orthopedic problems. In other words, the mattress would serve as part of a medical solution for the patient – it can not be just for a matter of "comfort". Several recommended mattresses of this type are listed below.
Patient Eligibility Rules and Issues
The patient must be deemed eligible for coverage in addition to the mattress itself. The patient must show that the mattress is a "medical necessity" for them. This is accomplished by the following:
– An attending physician must formally prescribe the mattress for the patient as a medical necessity and back up that assertion with proper medical documentation regarding the patient.
– The physician must be Medicare approved and have examined the patient in-person within the prior six months of the prescription.
– The mattress must be for use in the patient's place of residence (can sometimes be allowed if a relative's home or nursing facility).
In addition to the above, the following rules also apply:
– The mattress can only be obtained through a Medicare authorized and participating medical equipment supplier.
– The claim for coverage has to be made in advance and receive official prior authorization from Medicare.
– If the claim is for a replacement DME mattress, usually at least five years must have elapsed since the approval of the prior DME mattress.
If Medicare approves the mattress as a covered item, the following apply:
– Any deductible on the patient's Part B coverage must be paid by the patient first, before Medicare payments.
– The usual payment arrangement is that Medicare will pay for 80% of the allowed cost of the mattress (which is normally paid directly to the supplier) and the remaining 20% is to be paid by the patient.
Medicare will only pay 80% of the "Medicare allowed" price for the mattress. If you agree to a higher price, you will have to pay the difference.
Drive Medical Alternating Pressure Low Air Loss Mattress System
This is actually a machine that can adjust the pressure of the mattress, giving varying or steady pressure as needed. A quiet electric pump, usually controlled by a hand-held control device, provides air flow and helps direct or adjust the mattress pressure depending on the patient's needs.
Drive Medical Therapeutic 5 Zone Support Mattress
The five zones are designed to evenly distribute pressure on the mattress to provide the main medical benefit of reducing pain and preventing bed sores. While being comfortable, it is also sturdy with its strong foam core. Plus, it is very practical as a medical mattress, being both waterproof and anti-microbial.
Joerns PrevaMatt Defend Pressure Relief Mattress
This pressure-reduction mattress is specifically made to solve pressure-related problems, such as pressure ulcers and wounds (bed sores). It's made of two layers of viscoelastic foam, meaning it can move with and cradle your body easily, providing necessary reduction of pain and discomfort.
Solace Resolution Glissando Heavy Duty Mattress
A pressure-reduction mattress that is also specially designed to prevent friction. It is made with a layer of specialized "gliding" material and high-density foam under its surface, to reduce pressure on the body and help you move comfortably when lying down.
ThevoRelief Pressure Relief Mattress
This pressure relieving mattress is designed to maximize relief from pain and discomfort and it is both soft and supportive. Its unique wing suspensions help relieve soreness, and it's an effective mattress choice for those who are living with chronic medical conditions.
Related Topics (Sponsored Ads):