Key Medicare Changes In 2022
Every year the government reviews the Medicare program and makes changes, including cost factors and types of coverages and health services. Certain changes were made for the year 2022, not all of which are pleasant…
Related Topics (Sponsored Ads):
Medicare is made up of many different components (referred to as "parts"). Coverage in Part A (Hospital coverage) is basically automatic and free of premium cost for most people 65 and over. However, the other parts of Medicare have to be enrolled in and are not free. In addition to certain premium costs, there are also often deductible payments and co-payments that covered patients are responsible to make. These cost factors, plus the types of coverages and services that are provided are reviewed and set each year by the government. The changes in these for 2022 are listed below.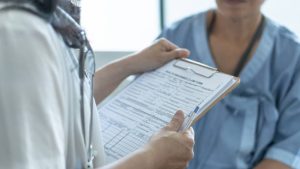 This is the basic part of Medicare that covers hospital and related expenses. There is no premium cost for people who paid Medicare taxes from their income for at least 40 calendar quarters. If you worked for less than this amount of time, your Part A premium in 2022 is as follows:
– Less than 30 quarters: $499 per month
– 30 – 39 quarters: $274 per month
The Part A inpatient hospital deductible is increasing to $1,556 for the year of 2022. There are also various co-payments that patients must pay in 2022 as follows:
– Hospitalization days 1 to 60: Members pay $0 coinsurance for each hospitalization.
– Hospitalization days 61 to 90: Members pay $389 coinsurance per day for each hospitalization period.
– Hospitalization days 91 and up: Members pay $778 coinsurance per day for each hospitalization.
– Care in a Skilled Nursing Facility: Zero copay for days 1 – 20, $194.50 daily copay for days 21 – 100.
This part of Medicare is overall medical insurance that covers certain medical expenses other than hospitalization. You must choose to enroll for Part B coverage and for most people, depending on income, the monthly premium cost is increasing to $170.10 in 2022. For those with annual incomes over $91,000 single or $182,000 joint – the monthly premium payment will be an additional $68 to $408.20 depending on income.
Part B also has deductibles and copays – the annual deductible is increasing to $233 and the general copay for covered expenses remains at 20% for the patient.
Part D is specifically to cover expenses of certain prescription medicines. To get this coverage, you must choose to enroll in it. The basic monthly premium is increasing to $33 in 2022. However, if you earn over $91,000 annually or $182,000 joint, then you will pay an additional $12.40 to $77.90 per month depending on income.
Part C is also known as Medicare Advantage. These are government regulated plans, sold by private insurance companies, that usually expand on the regular coverage provided by regular Medicare. The actual price varies for each specific plan, but can't be increase more than allowed by the government. In 2022, the average premium for Medicare Advantage plans will be $19 per month, versus $21.22 in 2021. Medicare Advantage members are still responsible to also pay for the regular Part B monthly premium.
Coverage for various COVID-19 related expenses will be included in 2022 Medicare plans. Some of these services include:
– Vaccinations: All FDA-authorized COVID-19 vaccines will be covered.
– Diagnostic Tests: FDA-authorized tests are covered when patients receive them from a laboratory, pharmacy, doctor, or hospital.
– Antibody Tests: FDA-authorized tests that check for a past COVID-19 immune response are covered.
– Monoclonal Antibody Treatment: FDA-authorized treatments for treating COVID are covered as long as the patient is getting care from a Medicare
provider or supplier.
– Booster Shots: All FDA-authorized booster shots for COVID-19 are covered.
This is a preventive visit within the first 12 months of Part B enrollment. This visit includes a review of the patient's medical history and to discuss preventive services recommended for them. Starting in 2022, the medical history review will also include a screening for substance abuse if the patient is prescribed opioids.
Part B enrollees are also entitled to receive a yearly "wellness" visit. During this visit, providers and their patients will discuss the patient's personalized preventive care plan. Starting in 2022, patients will also be required to perform a cognitive assessment to detect any early signs of dementia or Alzheimer's disease.
New Services and Coverage
Bariatric Surgery: Certain bariatric procedures will be covered by Medicare if the patient is diagnosed with morbid obesity.
Blood-Based Biomarker Tests for Colorectal Cancer Screening: Included in Medicare's coverage if patients are between 50-85, even with no symptoms of colorectal disease.
Insulin Coverage: For those with Part D coverage, the cost of certain insulin prescriptions is capped at $35 a month.
Mental Health: The availability of mental health services via telehealth (remote) is expanding.
Related Topics (Sponsored Ads):