Most Convenient PHD Degrees For Seniors
Many people aspire to get a PhD or doctorate degree, better never got the opportunity to actually pursue their dream. When these people reach retirement, they find they have more available time to go after their dreams. This extra time, plus the availability of on-line degree programs, allow seniors to realistically obtain that PhD degree.
Related Topics (Sponsored Ads):
Because of the large presence of online degree programs, seniors who prefer or need the convenience and security of studying from their home, can now obtain a college degree without having to physically attend a college campus. More recently, advanced degree online programs have surfaced, including PhD's and doctorates. Seniors who go after these degrees do so to become "experts" in their field, become a higher education academic, or for personal growth and fulfillment. In addition to the convenience and safety advantages of online education, another major advantage is that now "the university comes to the student". If a particular university offers an online degree program that you want to take, it doesn't matter where you live – all you need is a good computer and internet connection.
PhD and Doctorate degrees are usually both classified as "terminal degrees", meaning they're the highest degree in that particular subject area. But they differ in focus and goals – PhD degrees are usually focused on the students becoming academics and researchers. Doctorate degrees are usually focused on the students becoming leaders and subject area experts. Another hurdle for seniors for obtaining these degrees is the traditional requirement of writing a dissertation (which is basically like writing an academic based book) and then having that dissertation approved by the university faculty. This can take years by itself, in addition to the required course work. However, some online PhD and Doctorate programs do not require a dissertation, making them much more convenient and practical for seniors. Below are listed some of these programs.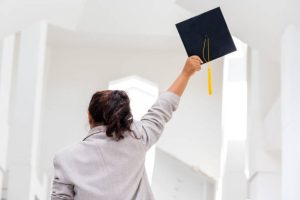 Liberty U. offers a Doctor of Education (Ed.D) Program that is completed fully online. 54 course credits are required to graduate, but students can transfer up to 50% of this amount in appropriate graduate level credits they have earned previously. The required courses are each 8 weeks long and the average time required to earn the degree is 18 months. This Doctor of Education degree program uses a curriculum that focuses on developing innovative programs, as well as completing a comprehensive "capstone" project.
Frontier Nursing University
Frontier offers a Doctor of Nursing (DNP) program that is available online. It requires a total of 33 course credits, and most students finish the program in 18 – 20 months. In addition to the online advantages, this particular program has the advantage of no required clinical (hands-on field) work, plus there is no entrance exam (such as GMAT or GRE) requirement. However, the program is geared to students who have prior nursing experience and education. This program offers a good deal of flexibility and the availability of personal online coaching.
The University of Tennessee – Knoxville
This Tennessee university offers a Doctor of Social Work in Clinical Practice and Leadership (DSW) Program that is completely online. This program is designed as a fast-track curriculum, with students taking three courses at a time. It takes 18 to 36 months to complete, depending on the type of courses taken. Courses are both asynchronous (self-paced) and synchronous online live lectures. The program is a professional practice degree that prepares students for work as social work leaders within a clinical setting. While this degree does not require a dissertation, it does require prior professional experience and education in Social Work.
Boston U offers a Post Professional Doctor of Occupational Therapy degree program that can be completed in 18 months. The program consists of 10 courses, ranging between 33 to 37 total course credits. Students may concentrate in various areas of Occupational Therapy (OT) in their studies. Two courses are taken at a time and courses start every September, January, and May. This program is designed for students with prior professional experience and education in OT. No dissertation is necessary, but a comprehensive final project is required.
University of North Carolina – Chapel Hill
UNC at Chapel Hill offers a Transitional Doctoral Program in Physical Therapy. This degree can be completed in 18 to 24 months fully online. This program is designed for licensed Physical Therapists who want an advanced degree that focuses on clinical skills. Students can choose concentrated practice core classes that may include a final capstone project.
Related Topics (Sponsored Ads):