SUVs Under $30,000 Best for Seniors
Sports Utility Vehicles (SUVs) are a very popular transportation option for many seniors. They offer much more storage space than regular cars, but are smaller and easier to drive than a van. Then there is the option of seating more passengers than a car – which is great for taking the grandkids on an outing or trip.
Related Topics (Sponsored Ads):
There is a very large amount of SUV models to choose from and they can vary quite a bit from one model to another. When it comes to senior drivers, not all of these SUVs are appropriate for them. The following are key considerations in determining that a particular SUV is good for a senior driver:
• Comfortable and supportive seating is a very important criterion
• Ease of getting into and out of the SUV is essential, so the SUV's height must be appropriate
• Controls, read-outs, and other cabin tech must be senior friendly and reliable
• Visibility should be generous in all directions, including generous use and placement of mirrors
• Many safety features should be present, as well as high safety ratings
• Operating costs should be reasonable
• Maintenance requirements should be light and user friendly
Based on the above factors, the following five SUVs are the best for seniors that are priced for under $30,000.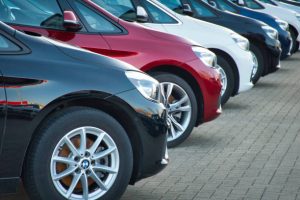 The Sorrento is a fourth generation model and is now a whole new design, bigger and more comfortable than its predecessors. This new model is a smaller midsize SUV with a small third row for occasional use, making it essentially a 7-seater vehicle. It comes with a standard 2.5-liter four-cylinder producing 191 horsepower or a turbocharged option with 281 hp. A hybrid and plug-in hybrid models also are available.
Specifications:
Length 188.9 in; Wheelbase 110.8 in; Height 66.7 in; Width 74.8 in; Weight 3,794.0 lbs
Fuel Tank Capacity 18.8 Gallons; Fuel Economy City/Hwy: 24/29 mpg
LX Model: 2.5L Inline-4 Gas engine; 8-Speed Automatic; Front-Wheel Drive; $29,390
The Santa Fe is a true mid-size SUV that successfully mimics the look and feel of much more expensive, but smaller, German SUVs. It offers a spacious, comfortable cabin; generous cargo capacity; superior warranty coverage, and noteworthy standard safety features. Some of these standard safety features include blind-spot collision avoidance assist, rear cross-traffic avoidance assist, and safe exit assist.
Specifications:
Length 188.4 in; Wheelbase 108.9 in; Height 66.3 in; Front Width 64.8 in; Rear Width 65.2 in; Weight 3,810.0 lbs
Fuel Tank Capacity 18.8 Gallons; Fuel Economy City/Hwy: 25/28 mpg
Warranty – Basic 5 years/60,000 miles; Drivetrain 10 years/ 100,000 miles; Roadside Assistance 5 Years/Unlimited Miles
SEL model: 2.5L Inline-4 Gas; 8-Speed Automatic; Front-Wheel Drive/All-Wheel Drive; $29,000
Honda offers a truly feature laden and impressive SUV in its CR-V model. It performs very well, is comfortable and has the long familiar Honda safety and quality built in. The CR-V's numerous winning features include excellent fuel-efficiency, a standard zippy turbo engine, large interior and trunk space, high-standard interior quality, comprehensive safety features, and good handling. Honda's CR-V is now a fifth generation model.
Specifications:
Length 182.1 in; Wheelbase 104.8 in; Height 66.1 in; Max Width 73.0 in; Weight 3,337.0 lbs
EX Model – 1.5L Turbo Inline-4 Gas; Continuously Variable Automatic (CVT); Front-Wheel Drive/All-Wheel Drive; power moonroof, blind-spot monitoring, cross-traffic monitoring, a larger seven-inch touchscreen display, Apple CarPlay, Android Auto, and dual-zone automatic climate control.
$27,860
Ford really didn't offer a competitive SUV until it introduced this newer version of the Escape. Especially attractive is the offerings of either a 2.0 liter turbo engine or a 2.5 liter hybrid engine, both selling for around $30,000. Some of its winning features include a powerful turbo engine, sporty and responsive handling, Ford's Co-Pilot360 safety suite as standard equipment, a user-friendly and fun infotainment system, and very spacious cargo area.
Specifications:
Length 180.5 in; Wheelbase 106.7 in; Height 66.1 in; Max Width 74.1 in; Weight 3,298.0 lbs
Fuel Tank Capacity 14.8 Gallons; Fuel Economy 23 mpg city and 31 mpg highway
SEL Model: 2.0L Turbo Inline-4 Gas; 8-Speed Automatic; Front-Wheel Drive/All-Wheel Drive; $29,505
SEL Hybrid model: 2.5L Inline-4 Hybrid; Continuously Variable Automatic (CVT); Front-Wheel/ AWD; $30,500
This vehicle has long been a favorite of consumers, especially those who want a SUV that is truly versatile – it is great in the city as well as on an off-road trail. This is largely thanks to its effective all wheel drive, continuously variable transmission, good ground clearance and all-weather road grip. In addition, the Forester provides a smooth ride; good gas mileage; lots of standard safety features, and spacious seating.
Specifications:
Length 182.7 in; Wheelbase 105.1 in; Height 67.5 in; Max Width 71.5 in; Weight 3,454.0 lbs
Fuel Tank Capacity 16.6 Gallons; Fuel Economy City/Hwy: 26/33 mpg
Sport Model: 2.5L Flat 4 Gas; Continuously Variable Automatic (CVT); All-Wheel Drive; $29,765
Related Topics (Sponsored Ads):