Two-Year Associate Degree: 10 Best Paying Jobs You Can Get
If you're wondering about ways to get a white-collar job without having to go through the four-year hassle of school and coursework, earning a two-year associate degree is a better option for you. It cuts time in half as it takes just two years to get a degree and workplace experience.
Related Topics (Sponsored Ads):
It is also a cheap and affordable option, considering how expensive getting other degrees are.
With a two-year associate degree to your name, you have the opportunity to go for some well-paying jobs readily available to you. Below are ten of the vast array of jobs from which you can earn good money.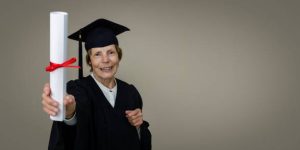 Jobs You Can Get With a Two-Year Associate Degree
Diagnostic Medical Sonographer
These professionals perform assessment and diagnosis of patients using special equipment that sends sound waves into their bodies to check for medical conditions. Part of their practice is taking ultrasounds to diagnose patients. They work in hospitals, clinics, or physicians' offices.
Prospective sonographers need a postsecondary certificate or a two-year associate degree in this field to get employed. Professional certification is also required. Diagnostic medical sonographers earn an average amount of $65,000.
Electrical and Electronic Engineering Technician
These technicians help electrical engineers design and develop electrical and electronic equipment such as computers, navigational equipment, medical devices, and communications equipment.
They are primarily based on research and development laboratories or work with manufacturing companies. Electrical and electronic engineering technicians earn an average of $58,000 a year.
Dental Hygienist
A dental hygienist administers preventive oral care to patients alongside a dental assistant while a dentist supervises. They clean the teeth and examine the mouth for oral diseases gingivitis.
In addition to this, they teach patients how to maintain hygienic and optimal oral health.
Dental hygienists must have a two-year associate degree in dental hygiene, coupled with a license to practice. They earn approximately $70,000 as the median salary.
Registered Nurse
A registered nurse's role is to provide care to patients, give them and their family members or guardians health advice, and enlighten the public from time to time about health conditions, how to prevent them, and steps towards getting treatment. They are based in hospitals, health care services in homes, nursing homes, doctors' offices, schools, prisons, the military.
After getting an associate degree in nursing, candidates go on to write a licensing exam. Although many candidates proceed to earn a four-year degree, it is not impossible to work with only a two-year associate degree. Their average salary is $65,000.
Nuclear Medicine Technologist
Nuclear medicine technologists scan patients' bodies, prepare radioactive drugs, and then administer them for better imaging during the scan or therapeutic purposes.
They work in hospitals, imaging clinics, and physicians' offices and provide technical support to professionals in the nuclear medicine field.
The job of nuclear medicine technologists requires them to research how radioactive drugs can be used or administered safely. In case of a nuclear disaster, nuclear medicine technologists may be tasked with emergency responders' role.
Nuclear medicine technologists need to have an associate degree in nuclear medicine technology, and they must be licensed in many different states. They receive an average salary of approximately $69,000.
Air Traffic Controller
Air traffic controllers mainly work in control towers. The job is primarily concerned with safety, so workers have to be alert and give the job maximum concentration at all times. The absolute attention required makes the job relatively stressful and exhausting, but the $100,000 salary makes it worthwhile.
To become an air traffic controller, you need to have completed an air traffic management degree in a school certified by the Federal Aviation Administration (FAA). You also need to go past the cut-off mark on the FAA pre-employment test.
Additionally, you will be required to complete a training course at the FAA Academy and be a US citizen if that's where you want to work.
Fashion Designer
Fashion designers work with manufacturing companies or wholesale establishments, clothing/apparel companies, design firms, retailers, or dance and theatre companies.
Although postsecondary education is not a job requirement, many fashion designers are formally educated on design skills like how to use computer-aided design technology. In the hiring process, employers favor creative applicants who also have an essential knowledge base of fashion designing in the hiring process. Fashion designers earn $63,000 on average as their salary.
Nuclear Technician
The work of a nuclear technician involves the production of nuclear energy. They also assist professionals like physicists and engineers in conducting nuclear research. They operate equipment used and monitor radiation levels being emitted.
Nuclear technicians work in places like defense facilities, power plants, healthcare facilities, laboratories, and waste management. Workers need to take safety precautions to avoid getting exposed to radiation.
Job seekers need to have a two-year associate degree in nuclear science or a different course related to nuclear technology. They also need to undergo intensive training. Their salary is approximately $68,000.
Aerospace Engineering and Operations Technician
Earning an approximate sum of $61,000 salary, aerospace engineering, and operations technicians control or operate advanced equipment and devices used to develop, produce, and test new aircraft. The nature of an aerospace engineer and operations technician's work makes the primary working place a manufacturing plant, laboratories, and offices.
Getting an associate degree in this field is essential as it gives applicants an advantage and makes them more appealing to hire. Going for vocational programs in place of a two-year associate degree also works as such programs offer good preparation, and students earn certificates or diplomas on completion. Others may work on national defense projects, but they will need to meet security clearance requirements.
Radiation Therapist
Radiation therapists are often a part of the oncology team that treats cancer. They also take care of tumors and other diseases by administering radiation treatments.
Often, they are tasked with the equipment's calibration and operation, and they monitor patients to check for unusual reactions to the radiation treatment.
A radiation therapist works with medical physicists, radiation oncologists, and oncology nurses, and they need to be licensed to be eligible to work in most states. Their average salary is $75,000.
Choose an area of interest, send an application to your college of choice, and work towards getting a great job with a two-year associate degree within just two years.
Related Topics (Sponsored Ads):